The people of Prince Edward Island and British Columbia are the "best recyclers" in Canada and "Newfies" and Manitobans the worst, according to PPEC's analysis of the latest data from Statistics Canada. The average Canadian recycles 255 kilograms of stuff a year, the equivalent of about 11 heavy suitcases.
The data covers the industrial, commercial, and residential waste streams of paper, plastic, glass, metals, textiles, organics (food), electronics, white goods such as fridges and appliances, and construction, renovation and demolition materials like wood, drywall, doors, windows, and wiring. It excludes materials from land clearing and asphalt, concrete, bricks, and clean sand and gravel.
The diversion numbers from landfill and incineration are likely understated because they don't include beverage recycling in provincial deposit/refund programs or the mostly paper materials that go from a retailer, say, direct to a paper recycling mill, rather than through a waste hauler or local government.
The weight (or tonnes) of waste diverted or recycled by Canadians has increased by 36% since 2002. That's good, but our diversion efforts as individual Canadians (per capita) are less impressive (20% better over the same period). Several provinces have done very well (Nova Scotia up 44%, Quebec up 38%, and Saskatchewan up 32%). But Manitoba and Alberta are going backwards, and Newfoundland and Labrador remains way at the bottom with the lowest diversion rate per capita in Canada.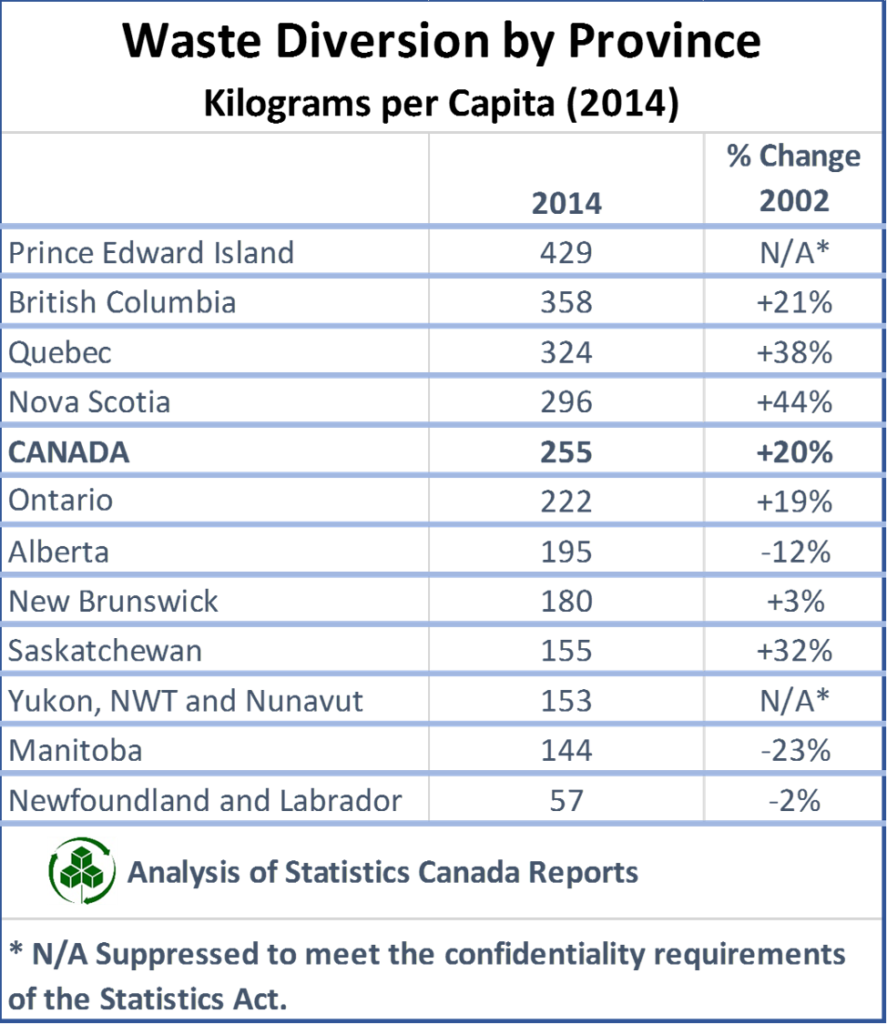 There are explanations for why provincial diversion performance is so uneven. Stay tuned. For background, see our previous blogs in this series: Canadians are dumping more, and less, at the same time! (April 19) and Canada diverting only 27% of its waste (April 27).