Paper-based packaging continues to be the largest captured material in Ontario's household Blue Box program, based on new data released by the Resource Productivity and Recovery Authority (RPRA).
Each year, municipalities, recycling associations, and First Nation communities in Ontario report on their residential waste diversion programs to RPRA, through the annual Datacall. The most recent Datacall Report summarizes information generated by the 250 programs participating in the Blue Box Program in 2020, and highlights residential waste management trends.
Overall, the Blue Box recovery rate – the amount of designated packaging and printed materials recovered as a per cent of the amount generated – increased to 59.9% in 2020, up from 57.3% in 2019.
Of interest to the Paper and Paperboard Packaging Environmental Council (PPPEC) and its members, is Figure 3 from the report, which shows Marketed Blue Box Materials in tonnes. Paper-based Packaging has the largest component with 271,433 tonnes, representing 35.9% of the total Blue Box marketed tonnage (756,984).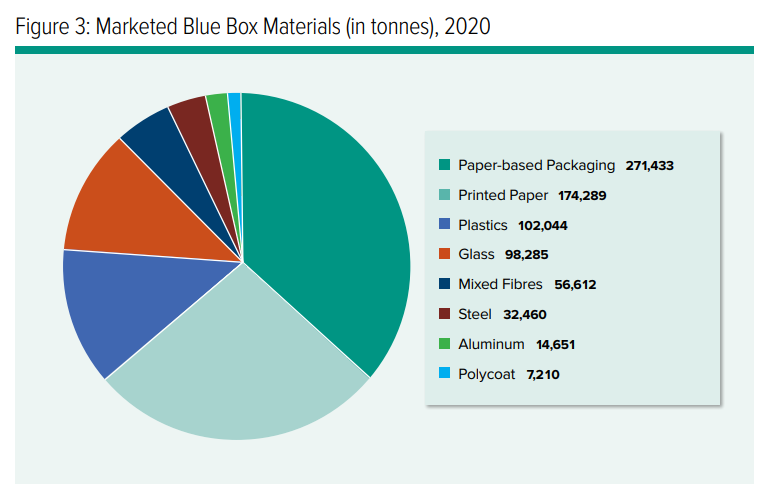 Marketed Blue Box tonnes represent the tonnage sorted and processed by a Material Recycling Facility, which are then baled, sold, and used in place of virgin materials.
The second largest material is Printed Paper with 23% of marketed tonnes. However, this category – which includes newsprint, household fine paper, telephone books, and catalogues – continues to decline year over year.
Table 4 of the Datacall Report shows Marketed Blue Box Tonnes from 2015 to 2020, with Printed Papers showing a nearly 62% decline in tonnage over the five-year period.
Meanwhile, paper-based packaging – which includes old corrugated cardboard, old boxboard, and a portion of residential mixed papers and mixed fibres packaging – shows a nearly 73% increase in tonnage over the same period. The most recent year shows a 13.1% increase, which may be attributed to the rise in e-commerce shipments due to the pandemic.
RPRA's Datacall Report states that 99.8% of Ontario households have access to recycling corrugated and boxboard paper-based packaging. And not only do they have access, Ontario households are actively doing their part to recycle these materials.
The Ontario household recovery rate for Corrugated Cardboard is 98%, and 47% for Boxboard, according to Stewardship Ontario's 2022 Blue Box Fee Calculation Model.
RPRA's Datacall Report also offers insights into 10-year trends, including declining newsprint and rising program costs. Overall, Blue Box marketed tonnage decreased by 14.7% from 2010 to 2020, largely due to the continued decline of printed paper in Ontario, which has seen a 64% decrease over the last 10 years. Meanwhile, Net Blue Box costs have increased 35.2% from $203 million in 2010, to $349.8 million in 2020, while revenue received by programs is declining.
The Ontario Blue Box program is currently undergoing transition to a full producer responsibility framework, which will see producers take over 100% operational and financial management of the program by December 31, 2025.
Paper-based packaging is collected for recycling at both the household level, and from the backs of factories, supermarkets, and office buildings (also known as the Industrial, Commercial and Institutional sector). And as recycling plays an important role in the sustainability of Canada's paper-based packaging industry – allowing PPEC member mills to maintain high levels of recycled content – PPEC closely monitors recycling and waste diversion statistics published by provincial stewardship organizations, Statistics Canada, and other organizations.
PPEC is proud of our industry's circular economy approach to managing paper packaging products, which are continually collected and recycled through residential and business recycling programs across Canada, allowing them to be remade into new paper-based packaging products again and again.