The Paper & Paperboard Packaging Environmental Council (PPEC) is pleased to celebrate the 20th anniversary of Waste Reduction Week in Canada, taking place this week.
Waste Reduction Week is an important program focused on the principles of circular economy, resource efficiency, and waste reduction; principles that PPEC and its members strongly support and apply to their daily operations in the production of recyclable paper-based packaging.
Paper is a renewable resource and a highly sustainable material that can be recycled and remade into new paper-based packaging products. In general, paper can be recycled up to seven times, while corrugated box fibres can be used up to ten times to make new shipping boxes and other paper-based packaging products.
Canada recycles almost 70% of its paper and cardboard, making it among the top paper recycling countries. And looking at corrugated boxes in particular – which have seen an increase in demand due to the pandemic and a rise in e-commerce – the national recycling rate for corrugated boxes is estimated by PPEC to be at least 85%, while Ontario has a 98% recovery rate for corrugated cardboard.
Keeping these materials in the recycling stream allows PPEC member mills to primarily use recycled fibres in their products. Recycled content is a key component of the Canadian paper-based packaging industry's circular economy, keeping raw materials flowing for longer, reducing waste, and allowing them to be remade into new paper packaging products by PPEC member mills.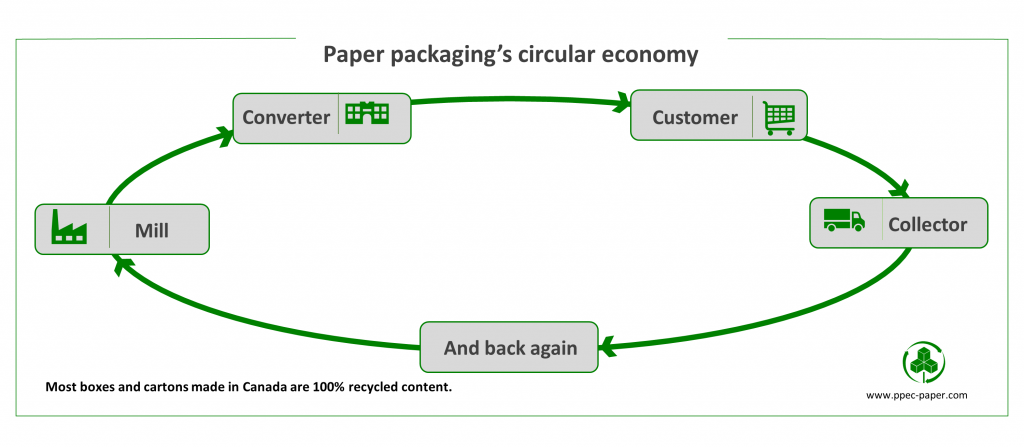 PPEC's 2020 Recycled Content Survey of Canadian mills found that the average recycled content of domestic Canadian shipments of the three major paper packaging grades – containerboard (used to make corrugated boxes), boxboard (used to make boxboard cartons), and kraft paper (used to make paper bags) – is collectively 81.7%, up from 73.5% in 2018, and up from up from 47% back in 1990 when PPEC first began collecting this data.
And consumers play a critical role in the paper-based packaging industry's circular economy through their important act of recycling. The majority of Canadians (94%) have access to recycling programs – and not only do they have access – they actively and regularly recycle their paper-based packaging, allowing those recycled fibres to make their way back to the mill to be remade into new paper packaging products again and again.
And while most paper-based packaging made in Canada is made with recycled content, the paper fibres it was originally made from came from a tree. That's why resource protection and sustainable forest management is critical to the operations of PPEC members and the Canadian paper-based packaging industry. All PPEC-member mills have independent, third-party certification that verifies that their paper fibre sources – recycled fibre, wood chips, and sawmill residues – are responsibly sourced. And while less than half of one per cent of Canadian commercial forests are harvested for paper-based packaging, every hectare that is harvested must be successfully regenerated; in 2018, at least 427 million seedlings were planted across Canada. When you add it up, the Canadian paper-based packaging industry hardly uses any freshly cut trees to make paper packaging, and the little that is harvested, 0.2% in 2018, is successfully regenerated.
When we use paper-based packaging, we all play a part in the circular economy of the paper-based packaging industry. Learn more the environmental sustainability of paper-based packaging by visiting PPEC's website and follow us on social media on Twitter and LinkedIn. And to learn more about Waste Reduction Week visit https://wrwcanada.com/en.